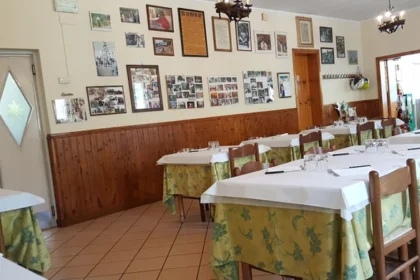 Among the restaurants I most like to recommend in and around Fermo are those where you can eat really well without spending a lot. Because when you are on holiday it is nice to be able to afford to go and eat when you feel like it, without having the burden on your conscience and empty wallet.
Le Marche at the table
They are three restaurants with unique atmospheres. that take you into a world where the Marche (the real ones) reigns in every aspect: from the service, to the eye (today we would say 'location') and of course… the table. They are also three restaurants of which we are regular guests, representing a 'guilty pleasure' for us on 'NO' days, when we don't feel like cooking, when we are looking for comfort food and seek a place where we can be on the safe side… without having to expect surprises.
The three restaurants are on an axis going from Fermo to Grottazzolina, so choose them according to the planning and itinerary of your day. If you are in Fermo, you can stop at Trattoria da Orsolina. If you are moving from Fermo towards Casale Al Fiume or returning from the sea, you could stop at the Rio Ete restaurant. If, on the other hand, yours is a relaxing day and you want to stay in the surrounding area, play it safe with Ristorante Pizzeria Stella del Colle.
Conosciamoli nel dettaglio!!
Trattoria da Orsolina, Fermo
Trattoria da Orsolina is located in Fermo at Piazza Dante Alighieri 5.
The Trattoria is located in the arrival square in the historic centre of Fermo (note not the main square). It is a junction of roads, so you may pass by sooner or later. You might find it convenient if you have parked around here, or if you want to stop and eat near where you parked.
Don't be fooled by the entrance on the road which doesn't do the trattoria justice, once you go down the stairs the ambience is small and the atmosphere familiar. The staff is very friendly and you will immediately feel at home. Let them guide you in your choice of dishes, from those on the menu to the dishes of the day written on the blackboard. You will not be disappointed.
In summer there is a porch that allows you to eat outside, nothing to do with the busy entrance.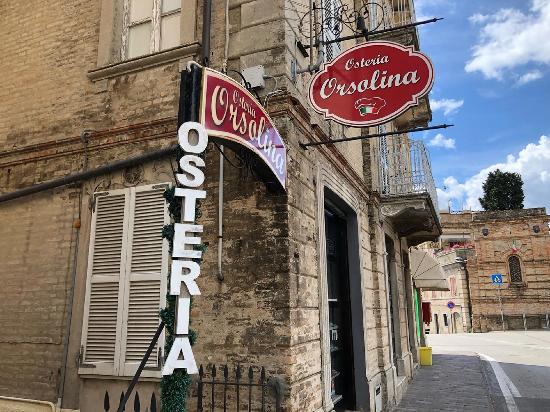 Rio Ete, Fermo
The Rio Ete Restaurant is located in Contrada S. Girolamo, 85, 63900 Fermo FM, you will have to get there guided by a navigator. Do not feel lost on the country road that leads you to Rio Ete.
The ambience is notoriously spartan, with tables set outdoors and paper tablecloths… you are in the Marche, the real ones! Rio Ete is an experience that must be lived, you will not be disappointed.
Overcome the initial mistrust that the host may instil in you and sit down. Know that one way or another you will always spend around 25€ including wine.
There is no menu, it is described verbally. Our advice: put your hands in front of you and wait to order the main course, think about it later depending on how full you are. Start with the plentiful and unmissable antipasto misto: there really is everything, from cold meats and salami to cheeses, crostini, grilled vegetables but above all the coratella.
Continue with the "tagliatelle fritte"! "Tagliatelle fritte" are a dish originally from Monterubbiano, they are breaded and fried meatballs stuffed with tagliatelle and served with meat sauce. A must try!!!
How's it going? Now decide whether to continue with a few seconds…don't forget olives and cream!!!
Needless to say, mistrà with coffee is a must.
NB: a yellowed sign posted perhaps in 2005 reads 'atm broken down'. We told you it was spartan!!!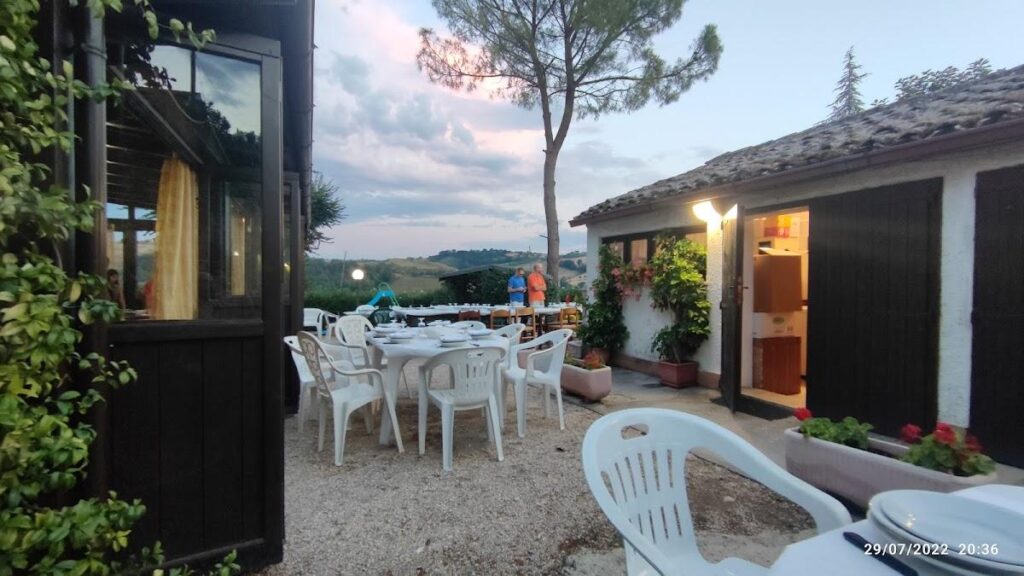 La Stella del Colle, Grottazzolina… also known as 'Li Mattarelli'.
Perched on a hill above Grottazzolina, nestled in the countryside, 'La Stella del Colle' awaits you at Strada Colle Nunzi, 3, 63844 Grottazzolina FM. Don't be surprised if you hear this restaurant referred to as 'Li Mattarelli' (translation: the crazy ones), a name much better known than the original.
There are many (perhaps endless) colourful tales about the owner Italo who was a very colourful character and used to enliven diners with jokes, teasing and colourful phrases. Today the restaurant is run by his sons and has mellowed without losing its country culinary tradition.
Even here, don't expect a menu, the dishes are narrated verbally by Loredana, the kind hostess. At lunchtime on weekdays, the menu is 'working' with generous portions, simple sauces and fast service (perhaps not the best for a tourist). You will get to know the real menu at La Stella del Colle at dinner or on holidays. Among the dishes we recommend: the cannelloni (rolled egg pasta stuffed with meat and topped with meat sauce and béchamel), the mixed roast…Ça va sans dire with olives and creme, and the mattonella dessert.