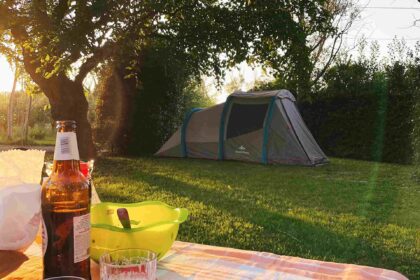 Is it better to choose glamping or camping? What are the pros and cons of the two alternatives?
WHAT IS GLAMPING?
Glamping, a fusion of 'glamour' and 'camping', is a form of holiday that offers a luxurious and comfortable camping experience, combining contact with nature with the comfort and services of superior accommodation. While traditional camping may require a tent or camper van and a good deal of preparation, glamping caters to those who wish to enjoy the beauty of the natural world without having to give up modern comforts.
Glamping accommodation can vary widely, offering unique and customised solutions. You may find luxury tents furnished with comfortable beds, electricity, heating and even private bathrooms. Some glamping sites also offer facilities such as tree houses, yurts, safari tents, vintage caravans or log cabins. The main objective is to offer guests an exceptional living experience surrounded by nature, without compromising on comfort and luxury.
TRADITIONAL CAMPING
However, experiencing a camping holiday does not necessarily require glamping. Traditional camping still offers many opportunities to enjoy an outdoor holiday without giving up basic comforts. You could opt for a traditional tent or camper van, and dedicate yourself to cooking meals outdoors, lighting a fire to barbecue or simply relaxing under the stars. Traditional camping offers a sense of adventure and a more intimate connection with nature, allowing you to experience the pleasure of waking up to the sound of birds and immersing yourself in your natural surroundings.
CASALE AL FIUME
This is what we have imagined at Casale Al Fiume, where campers can choose to spend a holiday in a tent, camper van or caravan without losing a number of comforts. If you decide to spend a summer holiday at our campsite, you will enjoy a familiar and intimate setting. Casale Al Fiume can accommodate 4 crews on the campsite and 3 in flats. This guarantees you a structure that is never too crowded, where in no time at all, bonds are created between guests and an acquaintance enriched by the sharing of certain spaces.
OUR SERVICES
Furthermore, at Casale Al Fiume you can enjoy small but useful services that will make your camping holiday more comfortable and lighter. The pitches are grassy and shady, measure approximately 60 square metres and are separated from each other by laurel hedges. Each crew can also count on their own private bathroom, which is only a few steps away from your tent or caravan. Each private bathroom is equipped with a toilet, sink and hot shower. Connection to drinking water and electricity on the pitch is also included in the tariff. In front of your private bathroom you will find a table for cooking and storing your belongings, as well as a personal sink and a shaded patio. The garden is equipped with tables, chairs, deckchairs and sun loungers. In the large common room you can make use of the sofa, tables, and fridges shared with other camp site guests.
RATES AT CASALE AL FIUME
If you look at all these services together, the price becomes extremely advantageous and a camping holiday at Casale Al Fiume becomes a pleasant and relaxing experience. Casale Al Fiume is the place where camping can become relaxing!!!
To all this you must add the Marche landscape, made up of its rolling hills surrounding the farmhouse, where the colours of the crops create a unique picture that will leave you speechless. Enjoying the sunset while relaxing in a hammock and letting your gaze wander over the panorama of Le Marche will be a unique moment of your holiday.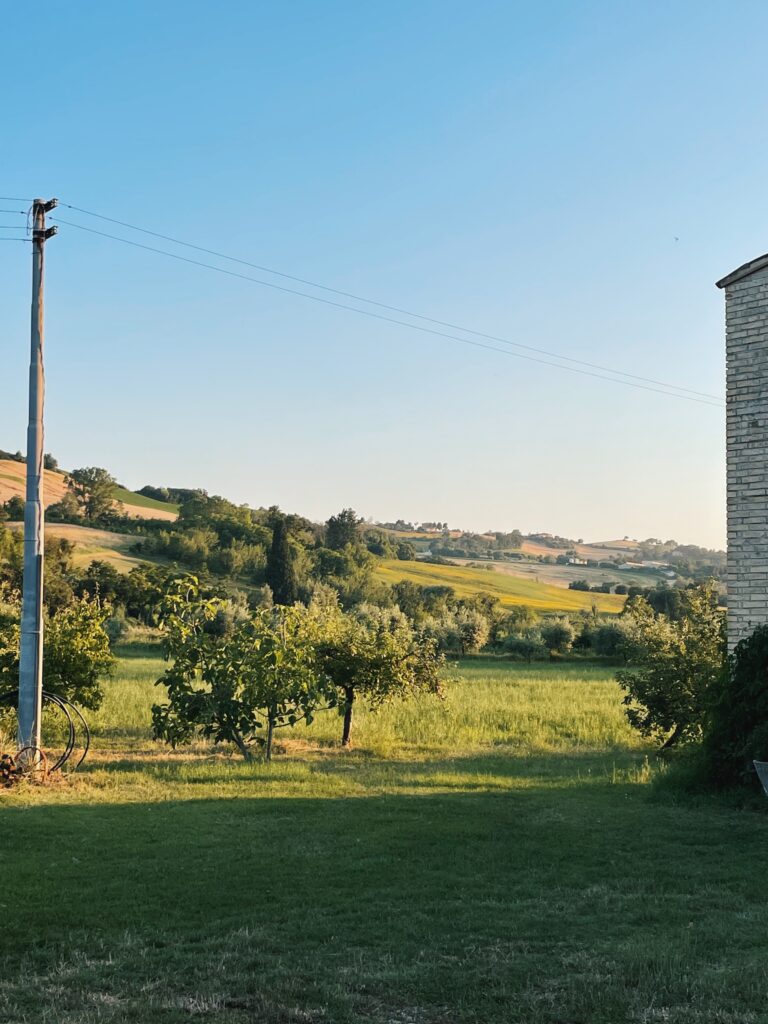 IN CONCLUSION
So, if you want a luxurious experience, glamping is the ideal choice. You can enjoy the comforts of high-quality accommodation, accompanied by customised activities. On the other hand, if you want a more authentic and wilder experience, traditional camping still offers many possibilities to enjoy nature and the freedom of the outdoors.
Whether you choose glamping or traditional camping, both options allow you to get away from the daily hustle and bustle, relax and recharge your batteries in a natural environment. The important thing is to choose the option that best reflects your tastes and needs for a memorable outdoor holiday.