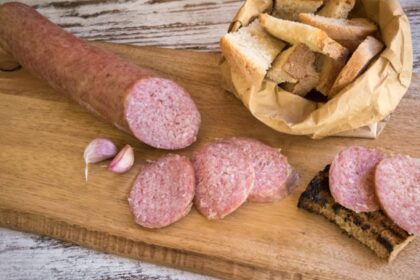 If you come on holiday to the Marche region, more specifically to the province of Fermo, you cannot overlook the typical food and wine.
The Marche region offers respectable typical cuisine, albeit with some shyness. In fact, the Fermo area is a little difficult to point out to you what the typicalities of the place are, yet as you sit down to eat, you will not fail to discover unique flavours that will make you travel and leave you with pleasant memories of these lands.
Fermo's typicalities are somewhat hidden, they must be discovered, but they are something unique that will encourage you to return to these lands.
Here is a checklist of 7 typicalities you must try if you are on holiday in the province of Fermo:
1. IL CIAUSCOLO
Ciabusco, ciabuscolo, ciausco, ciauscolo… call it what you will, it remains the king of our typical cuisine. It can never be missing from a plate of mixed cold cuts.
Ciauscolo is a type of cured meat typical of the Marche region. It is considered one of the most representative products of the Marche culinary tradition. Ciauscolo is a type of soft, spreadable and highly seasoned salami with a cream-like consistency.
Ciauscolo is eaten spread on slices of bread or bruschetta, and is much appreciated for its intense flavour and creamy texture. It is often accompanied by local red wine, such as Rosso Piceno.
When one is a hungry child impatient to sit down at the table, one's mother replies "make bread and ciabusco!"
2. IL FEGATINO
This is a typical cured meat from our region.
The slice has a wild dark colour, and there is a slight citrus aftertaste on tasting.
It is a cured meat with a totally unique taste.
Today, rediscovered and much appreciated, it is eaten by the slice, with slices of bread.
It is common to serve it in hors d'oeuvres, accompanied by traditional olives or Pecorino cheese. It is excellent on a good slice of homemade bread.
Salamella di Fegato is made from lean bacon and shoulder meat with added liver, pepper and natural flavourings.
3. LE OLIVE ALL'ASCOLANA
Now famous throughout Italy, Ascoli Olives are perhaps one of the typical dishes of this land that can be remembered even beyond the borders of the Marche region. You will find them in every restaurant as an accompaniment to the main dish.
Ascolana olives are a famous appetiser typical of the city of Ascoli Piceno, located in the Marche region of Italy. They are green olives, usually of the 'Ascolana tenera' variety, which are pitted and stuffed with a tasty meat mixture.
Ascoli olives are usually served hot, as an appetiser or snack, and are considered a delicious speciality of Le Marche. Their combination of tender olives, savoury meat filling and crispy breadcrumbs makes them a popular dish throughout Italy.
4. LE CREME FRITTE
If there is a typical Fermano speciality that is as unknown as it is capable of staying in your memory and being appreciated… it is fried creme fraiches. Unknown to most, you won't be able to do without them.
It may sound absurd, but Marche's fried creme, also known as 'cremini' or 'cream fritters', are served in savoury dishes, as a side dish, appetiser or aperitif. Although sweet, made of custard, they are served with savoury dishes.
The 'olives and cream' pairing is an inseparable pair in the province of Fermo.
The recipe is a secret preserved and handed down from generation to generation. Don't be surprised if you try to ask for the recipe and you don't get an answer, or you suddenly change the subject. A secret is a secret. Because the recipe differs from family to family, taste them wherever you can in search of the best one.
A word of advice: focus on the aniseed flavour in the cream.
5. I MACCHERONCINI DI CAMPOFILONE
Maccheroncini di Campofilone are produced in the Marche region in the tiny town of Campofilone in the province of Fermo and have the IGP certificate.
The history of the tasty Maccheroncini di Campofilone IGP has very ancient origins. The best known episode is linked to the Council of Trent, in 1560, when a dish was offered consisting of very thin strands of pasta made with flour and eggs from Campofilone. This was the pasta that was usually used by farming families in the village of Campofilone, when they needed to store the large quantities of eggs produced by the chickens reared in the courtyard. The eggs were then kneaded to make the pastry, which was dried and stored throughout the year.
They go very well with full-bodied traditional sauces, such as meat sauces, but are also excellent with white fish sauces.
A word of advice: put your mind at ease… a drop of meat sauce on your shirt is inevitable. Get ready!
Try them in Fermo, at the Locanda del Palio.
6. IL MISTRÀ
In Fermo, there is no end to a meal that does not end with the host placing – absolutely without having asked for it – a bottle of clear liquid on your table. Don't get confused, it's not water! It is Mistrà.
Mistrà is a traditional Italian liqueur, originating in the region of the province of Fermo. It is a distillate made from aniseed, but differs from Sambuca in some distinctive characteristics.
Mistrà is produced through a distillation process of aniseed seeds, which give the liqueur a distinctive and aromatic flavour. However, unlike Sambuca, Mistrà contains no added sugar, making it less sweet.
The taste of Mistrà can vary depending on the producer and the specific recipes used. Usually, it has a fresh and herbaceous flavour, with notes of aniseed, herbs and spices. The alcohol content of Mistrà can vary, but is usually around 40-45% by volume.
Mistrà is often served as a digestive, to be sipped slowly after a meal. It can be enjoyed neat, perhaps with the addition of a few ice cubes, or it can be used as an ingredient in cocktails and mixed drinks.
7. LA CORATELLA
Daring palates cannot miss this delicacy widespread in central Italy.
Lamb coratella with eggs is a typical Marche dish that is served as an appetiser at festive lunches, especially at Easter. A traditional peasant recipe, the coratella is first boiled and then cooked in a pan with lemon and eggs.
Lamb offal with eggs is a particularly strong-tasting dish. There is no other alternative: you either love it or hate it!
Try it in a very rustic but inexpensive restaurant like the Rio Ete farmhouse!