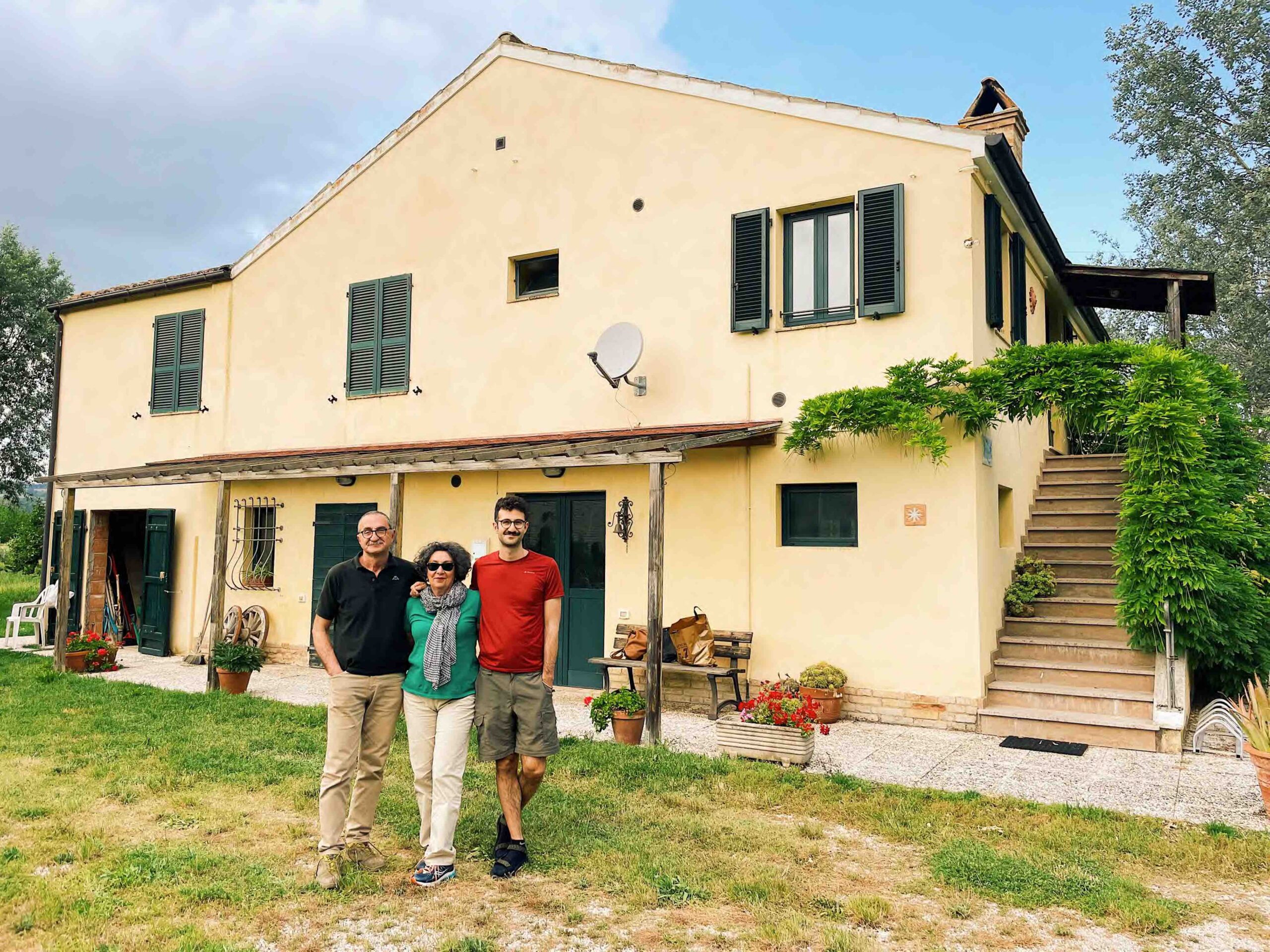 Giovanni, Anna e Paolo
I have lived in Milan for 10 years. But 'Casale Al Fiume' is the place where I grew up. 
Mother Anna and father Paolo used to bring me and my brothers here when they started renovating the Casale back in 1997. The best memories of my summers as a child live here. 
Only living in a big city made me REALLY appreciate this place, where you can feel at home, just walking in the grass, drinking a glass of wine at sunset, or reading a good book. So I decided to return to Le Marche to welcome you to this gem of ours.
CASALE AL FIUME
The 'Casale Al Fiume' is a unique place. Its location in the Marche countryside will allow you to visit the sea and the mountains. 
On one side the Fermo coast, Porto San Giorgio, Lido di Fermo, Porto Sant'Elpidio, Grottammare, on the other the beauty of the Monti Sibillini National Park.
Casale Al Fiume is located in a flat area and its position in the open countryside is ideal for experiencing a holiday immersed in silence. 
Le Marche is also a place of culture, and nearby Fermo offers tourist routes that will leave you amazed. But there are also countless nearby villages: real jewels not to be missed and all to be discovered. 
It is the ideal place for those who want to get away from the hustle and bustle of the city.
Casale Al Fiume is totally flat and equipped for people with reduced mobility, who will be able to move around independently without steps or differences in level.
Camping lovers will find a unique facility, a very small campsite that will allow you to experience a holiday feeling practically at home. You will avoid the hustle and bustle of large campsites with shared bathrooms, but you will enjoy the comfort of private bathrooms and unique shared spaces.
Shall we call it 'camping', 'agricamping' or 'glamping'?
The substance does not change, try it to believe!!!
LE MARCHE
Those who have never been to Le Marche will surely return home with a heart full of the warmth of this land. A warmth that the inhabitants will leave you with every encounter. Le Marche is a jewel to discover and get to know. Combining breathtaking views with a holiday cost... truly surprising!